Multiple Booking Requests
You asked, we listened! ONE is pleased to announce that you can now submit multiple bookings for consecutive weeks and add unique reference numbers per booking using your eCommerce login.

Follow these easy step by step instructions:
In the Booking Request screen choose the departure date or vessel you would like to book on.
To make multiple bookings you will choose the "Manage" button. This will bring up the "Manage Schedule" menu. 

To duplicate the booking as is (multiple bookings on the same vessel), you will select the checkbox next to the booking and in the duplicate box type the quantity of bookings you are requesting minus 1 (for 5 Bookings, type 4) and select "Duplicate". 

To change the departure date of a duplicate (multiple bookings, on multiple vessels), click on the departure date which will activate the calendar icon where you change the departure date. 

If you would like to change the vessel you will select the "search" button on the right. From here it opens up another vessel schedule for you to select from.

To add additional bookings, select the "+" sign and you can customize your sail date and/or select a new vessel by clicking "Search".  You can then duplicate this booking again by following Step 2 above. 

At any time you wish to start over you can select the "Reset" button.

To continue with your Booking Request select the "Save" button.

Have multiple reference numbers for your bookings?
To Add reference numbers to duplicate and subsequent bookings you will select yes under the "Multiple Reference Numbers" option.

Then select "Manage Reference No." 

You will select one of the bookings and the reference number fields will open up to edit. 

Add your reference numbers on the bookings you prefer and select "OK".  Note, you can copy and paste your reference numbers from another document directly into these fields.  You can also enter door delivery comments/instructions by scrolling to the right.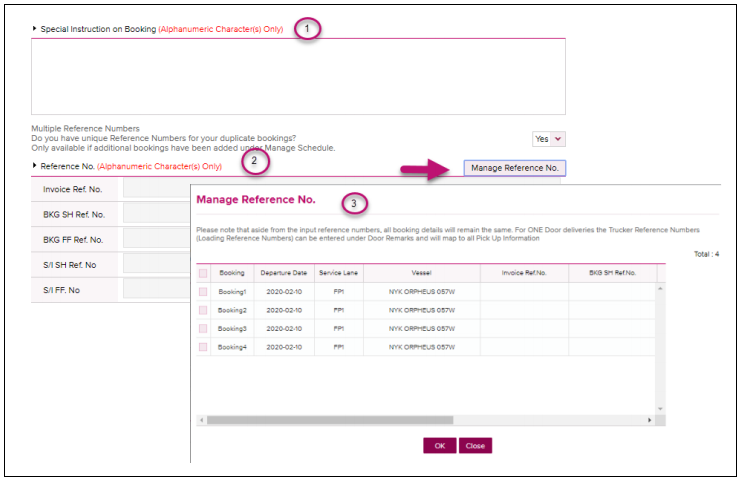 View the Booking Request user guide>>
Need help with the enhancement? No problem, schedule a WebEx or In-person training HERE or contact ONE North America eCommerce Customer Service at 1.844.413.6029, Option 3.